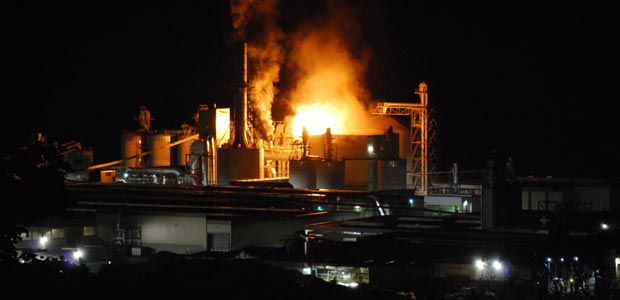 31.05.13 - Fire at Egger UK factory in Hexham
The fire at the Egger UK wood-product plant in Hexham. A Full investigation has been launched into a huge blaze at one of Northumberland's biggest factories. Sixty firefighters from across the North East tackled the fire at the Egger UK wood-product plant in Hexham.
Full Production at the factory has been temporarily suspended and the organisation will be working with Fire investigators to determine the exact cause of the Fire. The intensity of the blaze was due to thermal oil used in the heating system catching fire and our engineers.
Roads were closed and nearby care home residents evacuated as fire crews from seven stations in three counties tackled the incident. As a full-scale investigation into the cause was launched, Egger management and police confirmed there had been no casualties.
It is believed the blaze, confined to the factory's heat-generating biomass plant, was caused by thermal oil igniting and rupturing a pipe. As flames and a huge pall of smoke rose into the night sky at 10.30pm on Sunday, fire officers threw a 200-metre safety cordon around the plant.