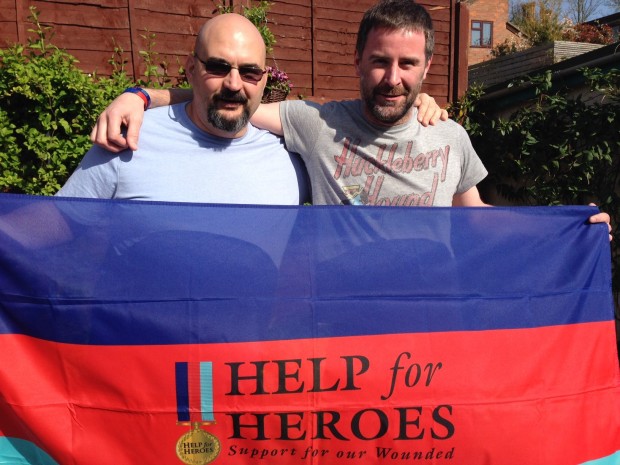 31.03.14 - And we're off!
Yes, that moment we've been both dreading and excitedly waiting for has arrived.
Team SRC, also known as Steve Collins and Shane Willmoth flew off to Veitnam on Sunday 30th March ready for the trek of their lifetime.
Steve, a fairly inexperienced trekker, kicked off his fundraising journey for the charity late September in 2013 with a couple of runs and 'warm up' gym sessions at Virgin Active in Shenstone.  In just under six months he is now running five miles in thirty minutes and has managed to lose almost three stone in the process as part of his own personal fitness goal.
Steve Collins, a Lichfield resident and business man says of his challenge:
"When I first signed up for the challenge in September, I didn't quite realise how tough it would be. I knew I wanted to get involved with Help for Heroes and ambitiously decided on the Vietnam Jungle trek.
"After receiving the information pack, I soon realised how difficult it was going to be and managed to convince a client and now friend to do it with me. After months of personal training, a complete change of eating habits and no mince pies over the Christmas period I think I'm finally fit enough to get through it."
Steve, an altruistic soul will start the challenge on Tuesday 1st April in Hoa Binh province at Tan Lac, where he will trek along the beautiful valley to Ngo Luong. The ten day trek will see Steve and his team partner Shane Willmoth walk 90km through Ban Hin, Ban Kho Muong, the original Ho Chi Minh Trail and finish off at through Pu Luong Nature Reserve to Ma River in Hanoi.
Currently Team SRC as Steve and Shane are known have already raised a staggering £6,257 with more activities to come to reach that lofty £10,000 target. Steve, now a regular gym goer due to the trek has also organised a charity night at Virgin Active in Shenstone featuring the popular music act Middle Eight, who have also donated their time to the cause at 'cost'.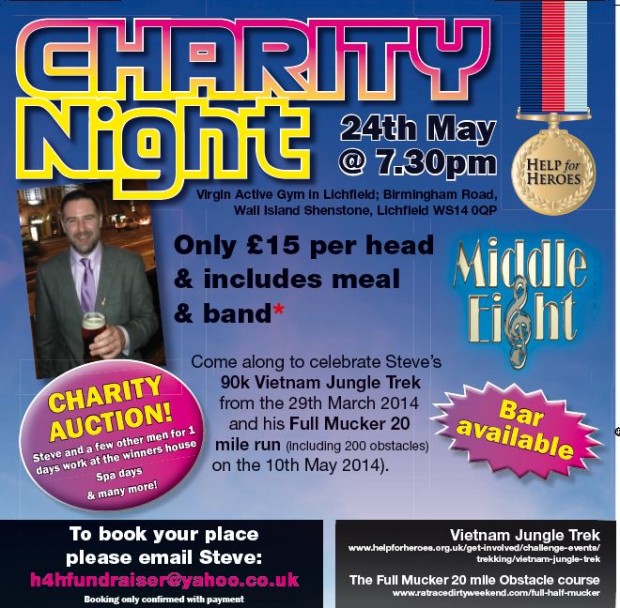 25.03.14 - Just under a week to go!
Yes, it's come around quickly!
Team SRC  jet off to the Vietnam Jungle this weekend (29 March) to take on the treacherous jungle to raise funds for Help for Heroes.
Both Steve Collins and trekking partner Shane Willmoth are now  fighting fit after months of hard work, dedication, blood, sweat and tears but are still concerned at the challenge that lies ahead.
The Midlands based fire safety and prevention business has pledged to raise (with trekking partner) a whopping £10,000 for the soldiers' charity and has also decided to throw an after party to continue their charity drive.
Show your support by sponsoring us before the Trek or come along to our Charity Night in May.