14.11.13 - Fire Safety – it pays to be safe


Fire prevention is currently a hot topic in the UK with Fire Services urging the public to be on guard with possible fire hazards during their planned strikes.
SRC can only reiterate the message that Fire prevention, especially in the work place and sleeping accommodation is key to preventing potentially hazardous fires.
Throughout the winter Fire Safety should be on everyone's minds, not just the Fire Service and professionals like ourselves as everyone cranks up the heat, uses additional heating such as calor gas fires and electric fan heaters and therefore increasing the risk of fire.
The biggest aid in Fire prevention is the use and installation of working smoke detectors.
Smoke detectors are recommended to be replaced every 10 years due to reliability and False alarm management (Both of which are British Standard Compliance issues).
Below is a statement straight from the biggest supplier of smoke detectors' website
Recommended Working Life of Apollo Detectors
Detectors manufactured by Apollo have a recommended working life of 10 years when used in dry, non-corrosive atmospheres and provided that they are regularly inspected, tested, cleaned and recalibrated as outlined in these pages. This period has been assessed on the basis of information provided by component suppliers and on twenty years' experience of servicing these products.
Most Apollo detectors will continue to operate within specification after 10 years' service, however, gradual deterioration of integrity and reliability should be allowed for.
In the interests of safety and the avoidance of unwanted alarms, Apollo recommends the routine replacement of detectors after 10 years' service.
We have a fantastic offer on detector replacements valid until 1st January 2014;
Apollo S60 or S65 detectors         £32.50 each
Apollo XP95 detectors                   £42.50 each
There are other manufacturers in the market place, there are similar offers on most.
The offer is based on a minimum of 75 detectors + per site (Like for like replacements only). The price includes all labour and travel. There is a 50% deposit required on all orders then balance to be paid 30days month end.
All prices Exclude VAT.
To take advantage of this winter offer, please contact us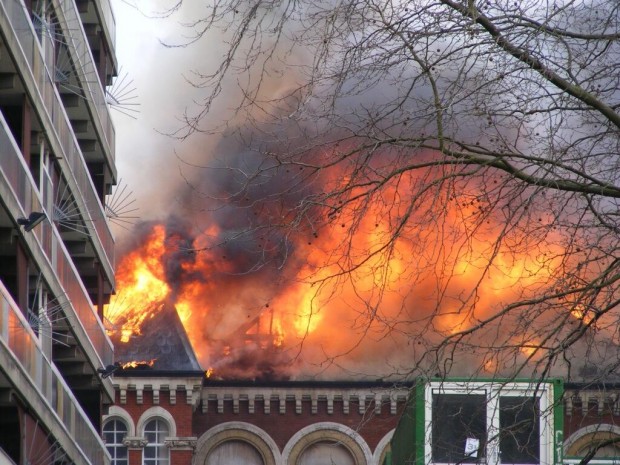 26.03.13 - Cuming Museum Fire, London
Devastated by the news of the fire on the Walworth Road this afternoon. The old Walworth town hall building next to the Heygate Estate houses the Cuming Museum, and that part of the building seems to have been worst hit by the fire (photo from SE1 on twitter).
The Cuming Museum is not just a great local history museum, it also houses two irreplaceable collections, the 19th century Cuming collection of weird and wonderful global artifacts and Edward Lovett's collection of objects associated with early 20th century London folklore. It seems inevitable that these collections will have been severely damaged at least, if not destroyed altogether.
It is great news that nobody on site was injured – the fire spread very quickly – and that the same applies to the many firefighters who have helped tackle the blaze.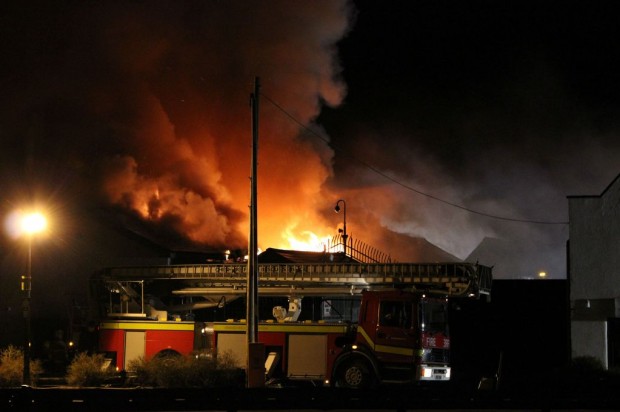 13.03.13 - Major Fire at Celebrity Nightspot Panacea in Manchester
Around 50 Firefighters from Fire Crews across Cheshire and Manchester were called to popular celebrity nightspot Panacea at around 10.30pm last night (Tuesday 13th March). When Firefighters arrived to the venue it was engulfed in flames and smoke. An aerial unit was also deployed to the site to spray the flames from above. There have been no injuries or casualties reported in last nights fire as the venue was closed and only opens on Fridays and Saturdays. Today water was still being sprayed onto the site by firefighters as the damping down process continued.
The venue had undergone a £3.2m refurb in September 2008 but was burnt to the ground just days before the planned opening. It is understood that last nights blaze mainly affected an area planned for a new Piccolino restaurant.
An investigation into the cause of the fire has been launched by Cheshire Police.