14.11.13 - Fire Safety – it pays to be safe


Fire prevention is currently a hot topic in the UK with Fire Services urging the public to be on guard with possible fire hazards during their planned strikes.
SRC can only reiterate the message that Fire prevention, especially in the work place and sleeping accommodation is key to preventing potentially hazardous fires.
Throughout the winter Fire Safety should be on everyone's minds, not just the Fire Service and professionals like ourselves as everyone cranks up the heat, uses additional heating such as calor gas fires and electric fan heaters and therefore increasing the risk of fire.
The biggest aid in Fire prevention is the use and installation of working smoke detectors.
Smoke detectors are recommended to be replaced every 10 years due to reliability and False alarm management (Both of which are British Standard Compliance issues).
Below is a statement straight from the biggest supplier of smoke detectors' website
Recommended Working Life of Apollo Detectors
Detectors manufactured by Apollo have a recommended working life of 10 years when used in dry, non-corrosive atmospheres and provided that they are regularly inspected, tested, cleaned and recalibrated as outlined in these pages. This period has been assessed on the basis of information provided by component suppliers and on twenty years' experience of servicing these products.
Most Apollo detectors will continue to operate within specification after 10 years' service, however, gradual deterioration of integrity and reliability should be allowed for.
In the interests of safety and the avoidance of unwanted alarms, Apollo recommends the routine replacement of detectors after 10 years' service.
We have a fantastic offer on detector replacements valid until 1st January 2014;
Apollo S60 or S65 detectors         £32.50 each
Apollo XP95 detectors                   £42.50 each
There are other manufacturers in the market place, there are similar offers on most.
The offer is based on a minimum of 75 detectors + per site (Like for like replacements only). The price includes all labour and travel. There is a 50% deposit required on all orders then balance to be paid 30days month end.
All prices Exclude VAT.
To take advantage of this winter offer, please contact us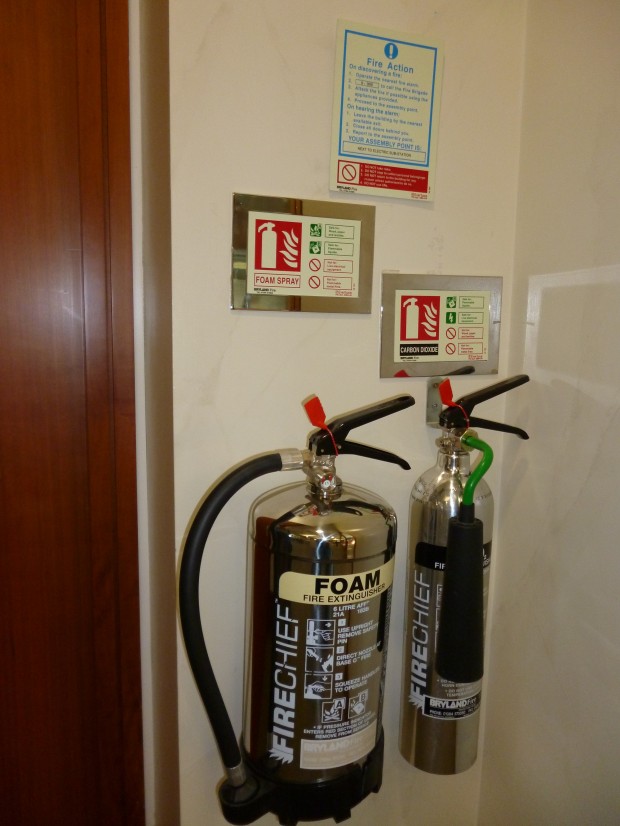 15.02.13 - Fire Safety Tips for Business
Fire Safety Director
Choose an employee to be the fire safety director for your organization. Depending on the size of your business, you should also appoint an alternate fire safety director to who is equally trained in the absence of the primary fire safety director. This employee should review, master and revise fire safety plans. The fire safety director should also coordinate fire drills and schedule fire safety and training presentations for other employees.
Fire Extinguishers
Every business must have portable fire extinguishers. Employees should be able to readily locate the extinguishers. They must be easily accessible and fully charged at all times and should never leave their designated location, except in the event of a fire. No employee should have to travel more than 10m to 30m to access an extinguisher. Fire extinguishers must also be regularly inspected by a qualified business such as SRC Fire. Read more about or Fire Extinguisher & Maintenance Service
Evacuation Plans
Evacuation plans will vary depending on the type of business and how many people will need to be evacuated. Evacuation routes should include escape routes and alternate escape routes for every room.
Evacuation plans should also indicate which employees are responsible for carrying out particular duties and a planned procedure for reporting a fire to the Local Fire Station. Employees should also be aware of the procedures for accounting for all present employees.
The floor plan should include the following information: exits, where to assemble, primary and alternate evacuation routes, where to take cover, location of fire alarms and extinguishers, and the location of the fire alarm controls. SRC install and maintain Fire Alarm Systems that you can rely on when you most need them. Read more about our Fire Alarm Systems
Fire Drills
SRC Fire recommend holding regular fire drills, both announced and unannounced. Encourage all building occupants to participate and maintain records of the drills. By doing this, all employees will be consistently refreshed on the fire drill procedure.
For more information contact SRC Fire 0800 9992475 or email enquiries@srcfire.co.uk